SOF2 DISCORD SERVER
SOLDIER OF FORTUNE 2 DISCORD
About SoF2 Discord Server
Our SoF2 Discord Server currently has over 750+ members and is growing rapidly day by day. Lots of members chatting about all versions of Soldier of Fortune 2, competitions and tournaments, player re-unites and more… >> Click Here to Join <<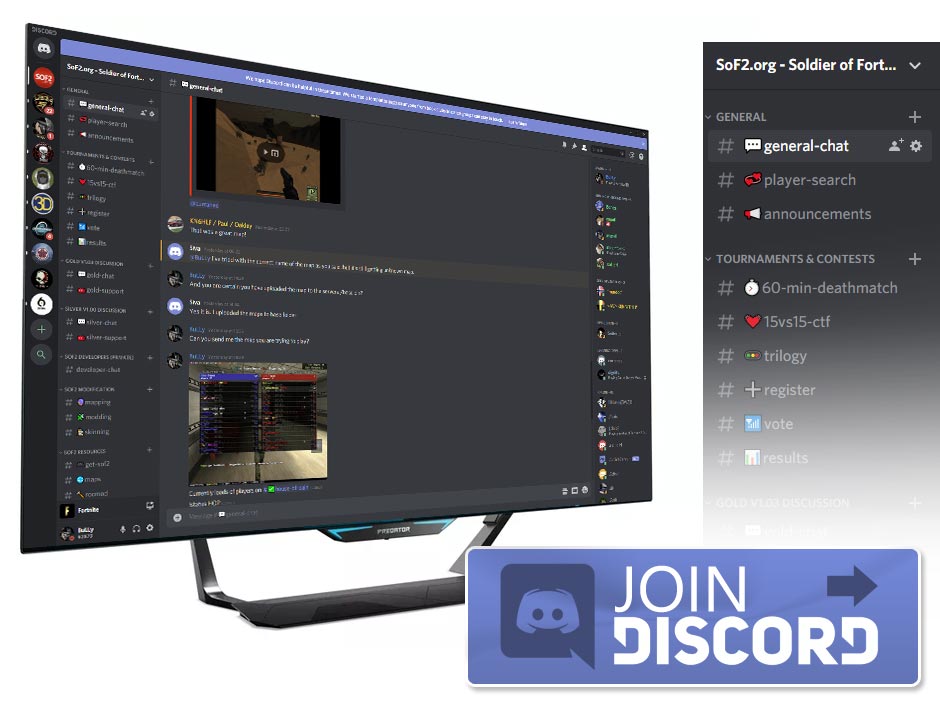 What is Discord?
Discord is kind of like TeamSpeak and MSN Messenger rolled into one neat package, primarily the SoF2.org discord server is used for text discussion between players and for organisation of events. There are also voice channels for those who prefer to speak to each other. To join the SoF2.org Discord Server you will either need to Download Discord for Windows or use the Discord Web Version
SoF2 Discord Server Rules
We don't believe in having lots of rules, but there are a few simple rules that members must abide by for the well being of the community and to protect the Discord members.
 Respect all members. This includes staff members. Treat others with kind and respect like you would expect in return.
 No spamming. This includes text walls, zalgo text, duplicate text, or any other form of it (also tagging a player for no reason).
Do not advertise. Advertising other discord servers is perfectly fine and recommended, however posting sketchy / dangerous links or links not related to Soldier of Fortune 2 are not permitted.
 Don't try to bypass the filter. We have a filter for a reason. If you try to bypass the filter, you may be muted.
 Keep all comments appropriate and relevant. Like our first rule says, you have to be respectful to everyone. This also means that you need to act appropriately in chat.
 No NSFW. Please do not post links, images, anything we may find to be NSFW content.
 Keep your name appropriate. If your username contains material we find to be inappropriate, we'll ask you to change it before issuing a ban. You can re-join the server once you've changed it. If it happens twice, you won't be unbanned.
 No cheating accusations! If you suspect a fellow member of this Discord is cheating in-game, then this is NOT the place to discuss the matter.
 The staff team's word is final. If a staff member tells you to stop doing something, you should immediately stop before they have to take action such as a mute, kick or ban. Summary: Don't be an ass, act respectfully and abide by the rules and you will fit in just fine. Break the rules or cause drama and you will be shown the door.